Customer Testimonial by Bill Givens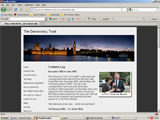 I and my colleagues
have been involved in advising people, businesses, politicians and charities for twenty years or more. Customer service training and consultancy has been at the forefront of this service offer. Janric excel in customer service.
What is demonstrated by Janric is outstanding excellence in customer service and in translating our draft vision of website as the customer would see it into a live and functioning asset for business or organisational development as a worthwhile investment.
I can honestly say that since we made initial contact with Janric the concept for our web presence has been turned around from some notes from us to a fully functioning web presence within weeks at a both cost affordable and excellent value for money. The site will be developed further due to the flexibility of the Janric team and backed up with their technical expertise for us to capitalise on for a wider audience and perhaps some additional income generation.
We have already referred Janric on to other contacts in our network and look forward to developing additional sites in the future. Our knowledge of other providers convinces us that Janric are excellent value for money and pull out all the stops to ensure their customers are satisfied.
Bill Givens
Janric customer since February 2010.