Customer Testimonial by Serhiy Malchenko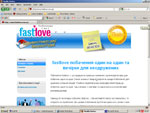 I was very sceptical
that a UK internet company would be able to complete a quality web site in the Ukrainian language and host it at such reasonable cost. From the start Keith grasped the ideas that I wanted to incorpoarate into the site and a draft was completed very quickly. Whilst there where issues surrounding the langauge format on the site these where quickly overcome. Both my colleagues and I are very happy with the end result which was completed on time against a very tight schedule. We are pleased that Janric will continue to host and develop our web site in the future, and would have no hesitation in recommending the company to any potential clients in the UK or abroad.
Serhiy Malchenko (Director)
Janric customer since January 2010.